A friend of mine just returned from a trip Down Under, and I was saddened to hear him tell me that the visible destruction in Christchurch, New Zealand, my one-time home, is still enormous. Christchurch suffered a 6.3 magnitude earthquake in 2011 that killed one hundred eighty-five people and destroyed scores of buildings.
This got me thinking back to one of the most amazing people I have ever known, my one-time Christchurch neighbour John Britten. John was a quiet, modest, unassuming, and totally focused individual with an instant likeability about him.
His life story is nothing short of fascinating. He was born with a serious learning disability that made reading extremely difficult. Not able to learn in conventional schools, he attended night school and eventually earned an engineering degree from Christchurch Polytechnic Institute of Technology. His determination to earn a degree — and, more important, gain precious knowledge — was a sign of things to come.
Some years before I met him, John began building, of all things, a futuristic motorcycle in his garage. His stated goal was to win the prestigious Battle of the Twins international cycle race in Daytona Beach, Florida.
His cutting-edge motorcycle involved over six thousand parts, most of which Britten hand-made. With the notable exception of the engine, his extraordinary machine was constructed primarily of carbon fibre, a first for the motorcycle industry.
John had such a magnetic personality that a number of dedicated helpers worked for free, mostly at night, while holding down full-time jobs during the day. Incredibly, the actual cost of Britten's masterpiece was not more than a few hundred dollars, while many large corporate sponsors spent several million dollars on their entries.
Toiling around the clock became his trademark, and working while others slept was a Britten norm that was accepted by those who agreed to become involved in his projects. Anything short of a superhuman pace would have made it impossible for him to build his one-of-a-kind cycle from scratch in just under eleven months, barely finishing in time for the Battle of the Twins event in Daytona.
But just three weeks before the big race, Britten's carbon-fibre cycle crashed while being tested. It was a cruel blow, considering all the man hours that had gone into building it. The task of locating and correcting the problem, then repairing the bike, seemed insurmountable, but John and his crew again managed to overcome all obstacles and arrive in Daytona just in time for the race.
But during the qualifying run, disaster again struck. Just twelve hours before race time, a hairline crack in a cylinder sleeve — one of the few parts John had not built himself — threatened to end his bid for the unofficial world championship for twin-cylinder motorcycles.
His reaction? After tireless but fruitless efforts to find the right spare part in the Daytona area, John, who had no previous experience in welding cylinder sleeves, repaired the broken part himself.
By race time, he had been awake forty-seven hours straight. But as events unfolded, it looked as though the monumental effort by him and his team would finally pay off. Once again, however, like a scene from of a depressing movie, bad luck reared its ugly head. With his cycle leading the pack, rain forced an end to the race one lap from the finish, which meant the entire race had to be run over.
In the restarted race, Britten's cycle again led the pack most of the way, until — you guessed it — yet another non-Britten-built part, a faulty rectifier, halted his bid for victory once and for all. John Britten had captured the admiration of the racing world, but had failed to come home with a trophy.
But when Britten returned to New Zealand, he didn't waste time focusing on the bad breaks he had experienced in Daytona. Instead, he went right back to work, rebuilt his handcrafted motorcycle, and returned to Daytona the following year. And this time, he finally won the Battle of the Twins championship, a Rocky Balboa finish if there ever was one.
The victory doesn't end there. The first commercial version of the Britten motorcycle sold for a record $140,000. Not a bad return on the few hundred dollars he had spent on the design and construction of the original model.
The moral to this story is that most bad breaks, particularly those that do not involve life-changing injury, terminal illness, or death, are no match for human intervention. As Benjamin Disraeli said, "Man is not the creature of circumstances, circumstances are the creature of man. We are free agents, and man is more powerful than matter."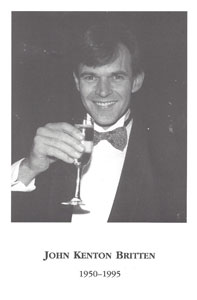 Intangibles such as focus, commitment, action, and determination, all of which John Britten displayed in abundance, have a way of rearranging the playing field, notwithstanding injustices harsh enough to bring most of us to our mental knees. John demonstrated that a determined, focused individual can overcome most of the bad obstacles life puts in his path.
Ironically, though Britten was a master at overcoming adversity, shortly after winning the Daytona title — in the prime of his life at age forty-four and hard at work on a revolutionary new airplane — he was diagnosed with terminal cancer. Mercifully, he passed away quickly, on September 5, 1995, but it was a sad ending for those of us who knew him.
It was a grim reminder for me that the typical injustices we encounter in our day-to-day lives are rarely of major importance. They could be more properly be categorized as the "daily cares of life" — the little irritants that gave birth to Murphy's Law, especially the part that states, "If anything can go wrong, it will, at the worst possible moment."
But it's nice to know that the daily cares of life, as well as major setbacks, can usually be overcome by anyone who is intensely focused on a goal and determined to attain that goal at almost any cost. And that, in a nutshell, describes John Britten perfectly. He is one of the few people about whom I can say that I feel truly honored to have known him. A genuinely nice guy and a truly great man.