Liberty Education Interview Series
Senator Tom Cotton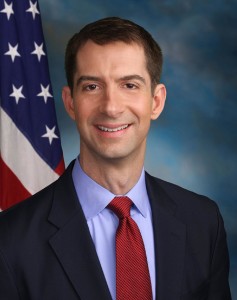 Arkansas Senator Tom Cotton is a graduate of Harvard Law School, a military veteran who served nearly five years in Iraq and Afghanistan, and a past member of The Old Guard at Arlington National Cemetery. His military decorations include the Bronze Star, Combat Infantry Badge, and Ranger Tab. He is also the author of Sacred Duty: A Soldier's Tour at Arlington National Cemetery, which is now a New York Times bestseller.
Senator Tom Cotton Interview
Use the player above or Download the mp3
---
Listen along with Robert Ringer and Arkansas Senator Tom Cotton, author of New York Times bestseller Sacred Duty: A Soldier's Tour at Arlington National Cemetery. Senator Cotton provides details regarding his experience in The Old Guard and its relationship to the Tomb of the Unknown Soldier, Section 60 of Arlington National Cemetery ("the saddest acre in America"), and the historical significance of Arlington. He also discusses why precision and discipline are so important in the Old Guard, the idea of a Supernumerary, and his thoughts on what would happen if Iran were to engage in first-strike military operations against the U.S.
Senator Cotton's devotion to America and his unwavering belief in the nobleness of its military mission are refreshing in an age where both are under constant attack by the enemies of Western civilization.