Liberty Education Interview Series
George Papadopoulos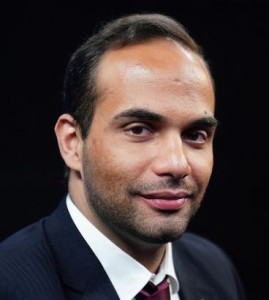 George Papadopoulos was a foreign policy adviser to Donald Trump's presidential campaign. His new book, Deep State Target: How I Got Caught in the Crosshairs of the Plot to Bring Down President Trump, is the only firsthand account that proves the attempted sabotage of President Trump's presidential campaign by intelligence agencies. He is a graduate of DePaul University and earned a Master of Science in Security Studies from University College London.
George Papadopoulos Interview
Use the player above or Download the mp3
---
In his most in-depth, wide-ranging interview to date, George Papadopoulos answers Robert Ringer's probing questions in impeccable detail that is sure to keep high-level Russian-hoax conspirators awake at night.  His true story of Deep State treachery sounds like a spy novel, but to the chagrin of intelligence-agency bad actors, it is real life.
In explaining how he came to have a target on his back, Papadopoulos tells about receiving a call "from out of the blue" from the London Center for International Law Practice inviting him to meet with some of the Center's people in London.  He ultimately accepted a position with the London Center, but later, when he told them he was leaving to join the Trump campaign team, they became inexplicably infuriated.
Where the Papadopoulos story really gets tense is when he tells how Arvinder Sambei (who turned out to be a Bob Mueller acquaintance) and Martin Polaine (who is connected to MI6) asked him to come to Rome, telling him that he would meet some people who "might be helpful to the Trump campaign."
From there, one Deep State operative after another comes streaming in and out of Papadopoulos' life — David Kovitch (CIA?), Claire Smith (MI6), Alexander Downer (Australian ambassador to the UK and a good friend of Hillary and Bill Clinton who donated $25 million to the Clinton Foundation), Stefan Halper (Cambridge professor), Azra Turk (Halper's so-called assistant, whom Papadopoulos famously met with in a London bar) … the list goes on and on.
But the two most mysterious characters in this real-life spy thriller are the infamous Joseph Mifsud, who ran an CIA/FBI spy school in Rome called Link Campus, and Israeli-American businessman Charles Tawil.
Mifsud told Papadopoulos that the Russians had Hillary Clinton's emails, but later denied it.  Mifsud also introduced Papadopoulos to his aide, a Russian woman by the name of Olga Polonskaya, whom he said was Vladimir Putin's niece.
Charles Tawil met with Papadopoulos and gave him $10,000 in cash, which Papadopoulos believes was for the purpose of initiating a Deep State sting against him.  Tawil later denied he had given Papadopoulos the $10,000.
The climax of this electrifying interview is when Papadopoulos drops a bombshell by explaining why he believes Barack Obama and John Brennan were the brains behind everything and how they initiated the coup to overthrow the Trump presidency.  He also speculates why he believes they "brought Comey along for the ride."
Absolutely riveting.