Liberty Education Interview Series
Carter Page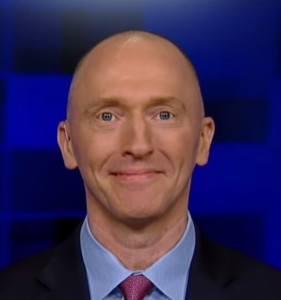 Carter Page is the former foreign policy adviser to the Trump campaign and founder and managing partner of Global Energy Capital.  He previously spent seven years as an investment banker at Merrill Lynch in London, Moscow, and New York where he served as Chief Operating Officer of the Energy and Power Group.  Page is a graduate of the United States Naval Academy, holds an MBA from the Stern School of Business at New York University, and is a Chartered Financial Analyst.
Carter Page Interview
Use the player above or Download the mp3
---
In this hard-hitting interview, Carter Page discusses the infamous Steele Dossier that was used to secure a FISA warrant to spy on him, and explains why he believes that the truth about the Trump-Russia collusion investigation will soon be uncovered.
Page also reflects on whether the real purpose of the Russia-collusion hoax was to deflect attention from Hillary Clinton's illegal activities and help her win the 2016 election.  He firmly believes that there have been so many lies told, and so much disinformation disseminated, that it's difficult to speculate on exactly what will be uncovered by William Barr's investigation.
Carter makes it clear that he believes the Mueller report is filled with half-truths and outright lies, and that Robert Mueller's July 17th appearance before Congress will shed light on all this.  He also gives a specific example of the type of misinformation techniques that were used to justify the Mueller investigation.
Regarding his speech in Moscow, Page sets the record straight and explains how a handful of incriminating words were cherry-picked from his 5,000 word speech, a speech that covered broad international political topics.  He further explains how these cherry-picked words were cleverly used out of context to mischaracterize his statements, in spite of the fact that FISA Code 50 U.S. Code § 1861 (a) (2) (B) protects U.S. citizens from being subjected to such harassment.