FREE

New York Times #1 Bestseller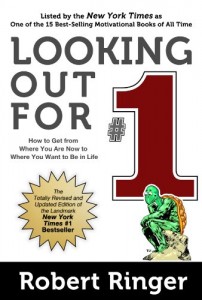 Get your FREE e-book edition of Robert Ringer's landmark New York Times #1 bestseller, Looking Out for #1 – listed by the New York Times as one of the 15 bestselling motivational books of all time.
Whether you read it on your Kindle, Nook, or mobile device, one thing is certain: This book will change your life forever, as it has done for millions of people worldwide.
To receive your free e-book copy of this life-changing classic, simply enter your e-mail address below. As an additional bonus, if you are not already a subscriber to RobertRinger.com, you will automatically be signed up to receive Robert's invaluable daily insights — free of charge. (You can, of course, unsubscribe at any time with a simple click of your mouse.)
Please note: During high-volume periods,
it may take up to an hour to process your request.