Get your

FREE

eBook edition
of Robert Ringer's eye-opening bestseller
Million Dollar Habits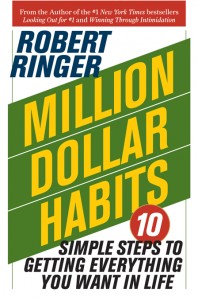 "Much of my success – both in building Keller Williams Realty and in my personal life – is based on Robert Ringer's teachings in Million Dollar Habits. His philosophical understanding of what it takes to build a successful life and business are foundational concepts anyone can follow — and everyone should."

Gary Keller
Co-founder and Chairman of the Board
Keller Williams Realty, Inc.
Whether you read it on your Kindle, Nook, mobile device, or computer, one thing is certain: This book will change your life forever, as it has done for millions of people worldwide.
To receive your FREE eBook copy of Robert Ringer's best-selling classic, simply enter your e-mail address below. In addition, you will automatically be subscribed to Robert's mind-expanding daily updates — FREE OF CHARGE. (You can, of course, unsubscribe any at any with a simple click of your mouse.)
Please note: During high-volume periods,
it may take up to an hour to process your request.